Local and National Union News
Tentative agreement reached with UPS Freight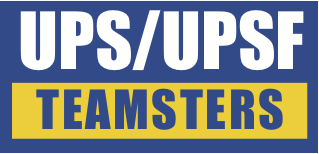 July 13, 2018 | "The Teamsters National UPS Freight Negotiating Committee (TNUPSFNC) and UPS Freight reached a tentative agreement on a new collective bargaining agreement," Kris Taylor, IBT/UPS Freight Coordinator, announced today. No further details will be released until leaders from Teamster local unions that represent UPS Freight members meet in the next few weeks at the Two-Person meeting to review the tentative agreement and approve sending it out for a membership ratification vote. The parties agreed to an extension of the current agreement to allow for the ratification process to take place. Once the upcoming meeting takes place, the union will release more information.
Hoffa: Unions want to be heard in fight to protect pensions
July 12, 2018 | The future of more than a million retirees and workers, many of whom worked decades and contributed to their pensions under the understanding they would be supported in their golden years. That is now being called into question, and it's not right. America is facing a retirement crisis. Unions like the Teamsters, UMW and BCTGM have known this for years. But Congress has been slower to act. That changed this February, when it formed the House-Senate Joint Select Committee on Solvency of Multiemployer Pension Plans. It was tasked with finding a solution to the nation's looming pension problem and will hear from the public firsthand tomorrow… Columbus Dispatch
Proposed contract released; supplemental agreements being finalized *
July 11, 2018 | The Teamsters National UPS Negotiating Committee has released the National Agreement in Principal and highlights of the agreement. The highlights are available here and the agreement is available here. Union negotiators are meeting to finalize the supplemental agreements. The Union has agreed to a contract extension that allows the leaders of local unions that represent UPS members to review the proposed national contract and supplements. Upon the leaders' approval, members will then have the opportunity to vote electronically to ratify the National Agreement and their supplements. * Listen here to the UPS Teleconference Call from July 10th.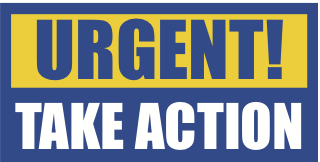 Butch Lewis Act best solution for pension crisis
July 10, 2018 | More than 300 multiemployer pension plans across the country – including the Teamsters' Central States Pension Fund, currently in critical and declining status – are in danger of failing. The deepening crisis is important to us because more than 400 former Local 557 members and 1,900 retirees who were covered by the Teamster Local 557 plan will be impacted. (When Local 557 merged with Local 355 in 2005, their pension plans remained separate.) A bipartisan congressional pension committee, tasked with finding a solution to the looming pension crisis by this November, is holding a field hearing in Columbus, Ohio on Friday, July 13th. The Teamsters, in conjunction with other international unions, are planning rallies to bring public attention to the crisis. But you don't have to attend the rally to add your voice in support of the Butch Lewis Act (S.2147/H.R. 4444). What you can do… 355 News
Successor contract ratified at Burris Logistics
July 9, 2018 | Drivers, and warehouse and maintenance workers at Burris Logistics (Burris Foods) overwhelming approved a new three year collective bargaining agreement June 24, 2018 that provides wage increases of $1.29 over the term and increases driver commission rates. In addition, the new contract provides an increase in the meal allowance and reimbursement for boots or safety shoe purchase. The union negotiating committee was successful in minimizing a broad company proposal regarding vacation "blackout" dates while still providing the company scheduling relief. Local 355 represents 110 workers at the Milford, Delaware distribution center.
| | | |
| --- | --- | --- |
| | | |
| | | |
| | | |
July 16, 2018 |

COMMENTARY

| Mother Jones is not just a magazine, friends. An epic figure long revered in the labor movement, Mary G. Harris Jones helped lead a people-powered uprising that established workplace rights for mine workers and shined a light on the horrors of child labor in the United States in the early 1900s. At a time when women had not yet won the right to vote, she marched her "Children's Crusade" right to the doorstep of President Theodore Roosevelt and leveraged the media to build public support for the workers. Though Mother Jones lived and fought a century ago, her mission and the stakes of that battle could not be more relevant than they are today… CBS News
July 13, 2018 |

ORGANIZING

| The US Supreme Court has just stripped back the power of organized labor still further, but millennials don't care. In an era of inequality and frustration they are joining unions in unprecedented numbers… The Guardian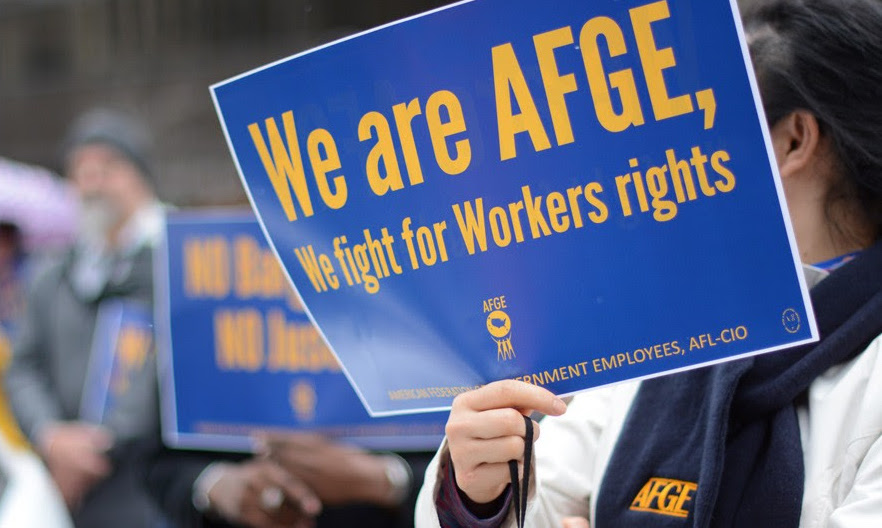 July 12, 2018 |

PUBLIC SECTOR UNIONS

| Unions representing federal workers are headed for a July 25 federal court showdown with President Trump over his executive orders – which started taking effect July 1 – stripping workers of many rights. The legal fracas before U.S. District Judge Ketanyi Brown Jackson in D.C., sees almost two dozen unions, led by the Government Employees (AFGE) and NTEU, challenging the legality of Trump's three anti-federal worker executive orders "a direct assault on the constitutional rights of federal workers and a challenge to the democratic principles on which this nation was founded." Consumer watchdog Public Citizen submitted a friend-of-the-court brief, signed by four lawmakers, saying Trump's orders break civil service law and would harm not just the workers but the country. In a separate letter, three Senate Democrats also backed the unions. ~ Press Associates, Inc.
July 11, 2018 |

JOBS

| Of all the addictions that undermine stability in communities and society at large, surely one of the worst and most persistent is the addiction of corporate managements to pleasing their shareholders. Billions of dollars are funneled to owners of capital in the form of dividends and stock buybacks, while laborers go begging for even the measliest wage increases. In recent days and weeks we've seen the process play out for the umpteenth time, as businesses grouse about a labor shortage even as job openings increase. "America's labor shortage is approaching epidemic proportions," reported CNBC, "and it could be employers who end up paying." Well, yes. That's how things are supposed to work: Businesses pay more to attract workers in a tighter, more competitive market for labor. The rhetoric coming out of the employer lobby would leave one to believe that workers are somehow the guilty party in this — they simply won't accept jobs that pay them less than they're worth… Los Angeles Times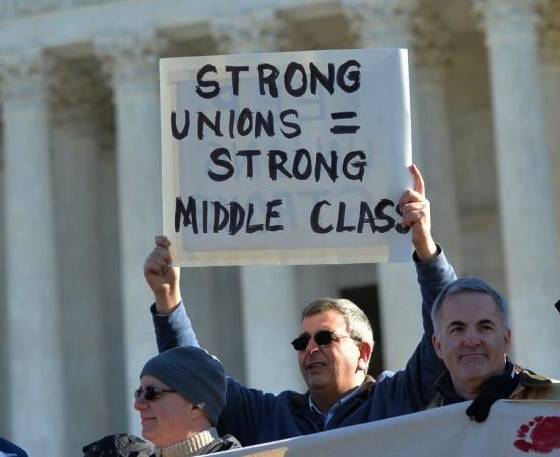 July 10, 2018 |

ECONOMY

| […] While the scholars can't pinpoint the precise mechanism at work, they speculate that unions have indirectly increased pay at firms nervous that their own employees might organize. Unions have also lobbied for higher minimum wages and pushed to hold down executive salaries. They have also advocated for broader access to health care, countering a key channel through which income inequality can harm all of society. Income inequality began its steep rise in the 1970s. Economists have been arguing about the origins of this trend since, with the primary explanations falling into two camps…

New York Times
July 9, 2018

|

AMERICAN LABOR

| […] As so many institutions have failed or outright scapegoated them—including Congress, the White House, their employers, local law enforcement, and ICE—immigrant workers have come to rely more than ever on unions and grassroots organizations to protect the few rights they cling to…American labor has always been a movement in which immigrants, often in the most thankless and dangerous jobs, have played leading roles—often stopping the race to the bottom that employers entered them in. The young immigrant women who worked in the clothing and garment industries of New York and other cities in the early 20th century—not least, those who died in the Triangle Shirtwaist Fire—paved the way for the reforms that led in time to the New Deal, minimum-wage laws, the eight-hour day, and the weekend… The American Prospect